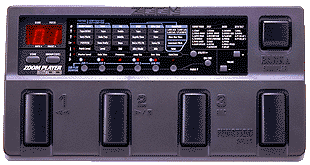 This unit is discontinued, but still widely available via ebay & other marts. Aside from the usual FX such as pitch shift, chorus, flange, compression, EQ, amp modelling etc, you have several delay-based options.
You can record 3 x 5 second, "jam" loops, which can be played back individually or simultaneously.

there is a 6 second "sound on sound" delay. Loop length is set in advance and you can play over or add to it. A switch, or external pedal can be assigned to switch loop mode on and off. Switching off lets you fade the loop, but switching on erases the audio.


A 10 second delay which can be set to ping-pong, making 20 seconds before either side of the stereo is repeated. It doesn't do 100% feedback, and fades a bit quicker than is ideal.

an internal Sampler records a phrase of up to 32 Seconds, (half that at highest sound quality. Timestretch allows for slowing down playback speed, but only if the phrase is recorded via the Aux In. Using the guitar input socket, you cannot change the playback speed. A LED grid keeps track of elapsed record time, while the main footpedals double as Rewind, Play/Stop, and Record keys for easy control.
Note, the 'Sound on Sound' delay can be fed into the 10s delay, but using either JamPlay or Sampler makes any other loop type unavailable.
For the price you can pick them up for, they are superb value. The unit also includes a tuner and the usual extensive Zoom range of "other" effect options. User patches can be saved.
Nick Robinson
Zoom 2100 user manual
Manufacturer's site