PVDLoop Providence: October 18, 2019
Mark your calendars if you are in the Northeast US: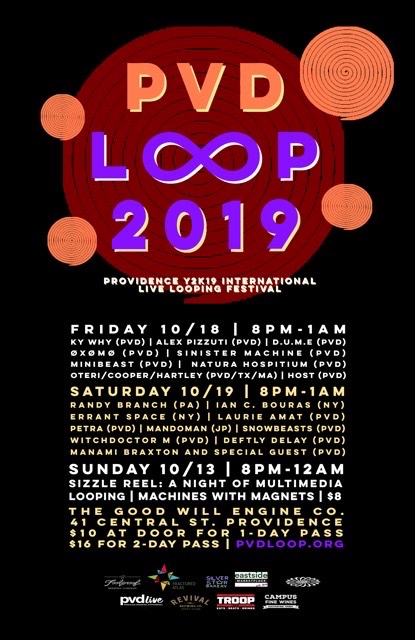 2019 Providence Y2K International Loop Fest (PVDLoop!)
at The Good Will Engine Company
41 central st, Providence, Rhode Island 02907
The 4th Annual Providence Y2k19 International Live Looping Festival (PVDLoop) presents incredible best local, national and international live looping artists, all in one place! We're still the premier and only East Coast satellite festival of the Y2K International Live Looping Festival Network, founded in Santa Cruz, California.
Featuring :
MANDOMAN – Hideki Nakanishi (Japan)
Oteri/Cooper/Hartley – A TX/PVD/MA Collaboration
Ian Bouras (NY)
Randy Branch (PA)
Craig Chin (NY)
Alec K. Redfearn
Alex Pizzuti
Deftly Dave
HOST
Director Manami Braxton and friends.
Ky Why
Matt McClaren
minibeast
Naturas Hospitum
Øxømø
PETRA – Kristina Warren
Sinister Machine
SNOWBEASTS
Laurie Amat
with more to come!
Friday October 18th & Saturday October 19th
::%:: Doors open at 7:00 pm – 1:00 am
::%:: $10 at door for each day / $16 for two day